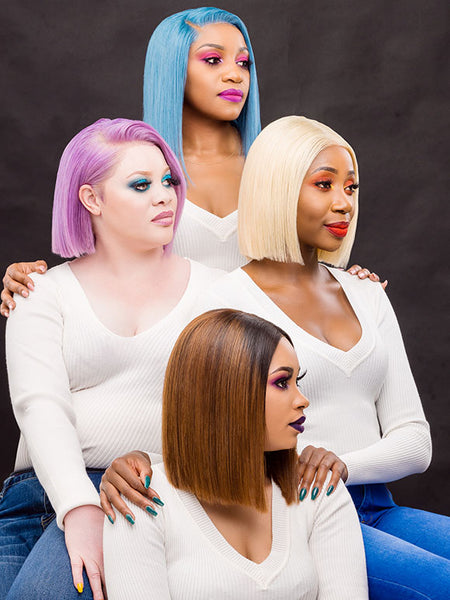 Welcome to Queen Diva Hair & Beauty Collection!
Queen Diva offers ethically sourced, premium and affordable hair solutions in Europe and Southern Africa. Our headquarters are in based in Germany.

As a brand we aim to defy the norm that luxurious hair, should come at ludicrous prices- each Queen deserves to wear her crown! We go to great lengths to ensure that we bring only the very best to our customers.
Vision
To empower women by making quality hair easily accessible and affordable across the globe and to extend financial growth opportunities to them through strategic partnerships 
Mission
Providing premium quality hair at fair prices.
Values
Class, Beauty, Freedom and Happiness.
We serve Queens hence we make it a point not to compromise on quality. Our virgin hair pieces come in their natural, true, untreated state. They are free of chemicals giving you room to play around with colors of your choice, applying heat and styling it infinitely.
We know you want to stay trendy and classy, our hair is the ultimate option to help you create the most defined and stylish current beauty looks.  With our healthy Virgin Hair, you don't go wrong in creating a pure, effortless classy look, it is the GOAT of hair extensions as it can be used time and again without taking anything away from its quality!
"For so many years, I would struggle to get some quality human hair which is tangle free. Whatever I found was either not of good quality or the prices were just too high and the hair didn't last for long. Then I considered opening my own company, that way I would provide quality hair that ticked all boxes including being affordable. I love quality hair and I believe all women are born equal but great hair makes one a Queen.  Queen Diva hair helps you look your worth!"
We thrive in bringing out the Queen in you by:
Offering affordable Raw hair and Virgin hair

Proving Raw hair is in its natural form and has not been processed.

Offering hair that is silky, tangle free and our wefts are crafted so that there is minimal shedding.

Offering fair prices.

Giving you the best customer services.
They say  'Your hair, is the crown you never take off', why not get our hair and look like the Queen you are.
Raw Hair
It is in its raw form from well known temples in Indian or Vietnam

It has no chemicals, no dyes.

Each bundle is cut from a single donor, treated to remove lice with high quality special shampoos and conditioners.

Ends are beautiful and double drawn

Blends perfectly with any textured hair.

It is very rare.

Very silky and lustrous.

Can be bleached to any colour.

Holds colour well.

Soft and durable.
10a virgin hair
Can be bleached

Can be dyed

Silky and lustrous

Soft and durable

Collected from other parts of China not necessarily in temples